Lesson
In order to make use of any of the LaTeX resources, you must first know how to get it working on our system.

To get started, you have to type the source in a text editor (eg xemacs pictured below.) After you write your document, save it with a filename having ``.tex'' as the last four characters.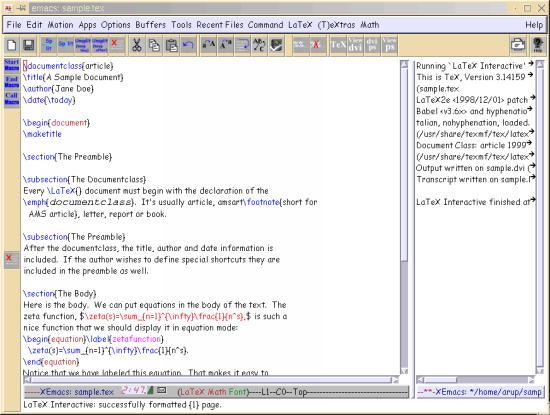 Editing a latex document in xemacs
First save the document by clicking on the floppy-icon (second from the left) To compile the source, click on the icon `TeX'. (What xemacs is doing for you when you click on the `TeX' icon is executing the following command: latex sample.tex). If the document contains references to equations or sections, you will need to run latex again.
If there were no errors, there will be a file with the same name as your original but with a ``.dvi'' at the end instead of ``.tex'' (also produced are two additional files: an auxillary file for internal use by LaTeX and a log file for inspection by gurus.)
Now if you want to view it directly, just click on the icon `View dvi' (which means xemacs is executing xdvi sample.dvi). A new window opens and you see something like the following on your screen.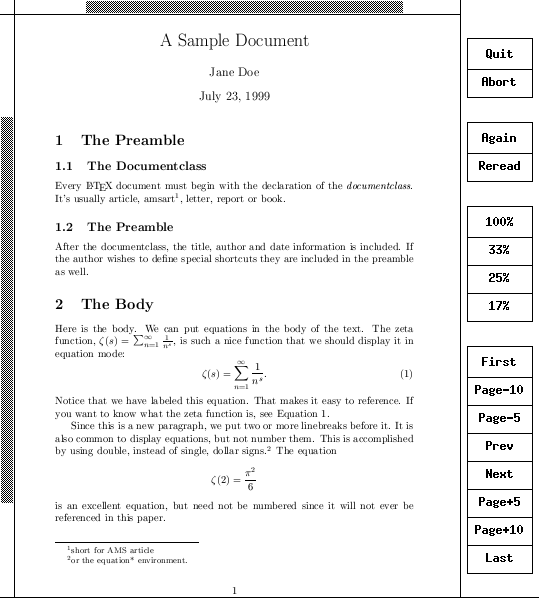 viewing sample.dvi with xdvi
If you want to create a postscript file and/or take a printout of your document, click on `dvips' first (this means executing the command dvips -o sample.dvi), to create the postscript file, and then on `View ps' (means executing gv sample.ps) to open the newly created file with ghostview. You can take a printout by going to the file->print menu in the ghostview window if there is a local/network printer already configured in your machine.
[ Top] [ Additional Reference]